East Fife Football Club is delighted to announce a three-and-a-half-year deal with MGM Timber for the naming rights to Bayview Stadium. 
As of Saturday 4th March, at the club's home game vs Forfar Athletic, the stadium will be called 'MGM Timber Bayview Stadium.' 
Commercial Manager Lee Gillies said "This is a historic moment for East Fife FC as this partnership brings a welcome cash injection into the club and the largest commercial deal in the club's history. It was important that whoever we brought in for this opportunity was the right company and we feel we have found that in MGM Timber. They had to have the same ethos as us, a passion for football and for the community.  MGM Timber and the Donaldson group are steeped in the history of East Fife FC and have supported us in the past and it feels like the perfect match."  
The deal sees the name change from its current iteration 'Locality Hub Bayview Stadium,' which was sponsored by the late Dave Marshall. MGM Timber will also be the shirt sleeve sponsor for the East Fife Girls & Women's first team squad for season 2023/24. 
Chairman Jim Stevenson said: "We are delighted to announce this fantastic partnership with MGM Timber. The Donaldson family have a long-established relationship with East Fife Football Club and to have them on board with us will hopefully see this will continue well into the future. We look forward to welcoming MGM Timber to our club and developing a close working partnership over the next 3 1/2 years and beyond. I would like to put on record my board and I's thanks to our commercial team of Lee Gillies & Scott Young for the tremendous work they have done over the last 6 months in not only securing this partnership, but the many others they have achieved in such a short space of time."
Graham Johnston, CEO of the Retail & Distribution division of Donaldson Group, which includes MGM Timber, said: "As part of the Donaldson family of businesses, MGM Timber is proud to be partnering with East Fife FC and we are delighted to have our brand associated with this famous stadium. We have only succeeded over the years by investing in our people and the local communities we serve. East Fife is a truly community-orientated club, and we are excited to be working closely with them." 
Andrew Donaldson, Donaldson Group CEO, said: "The Donaldson Group began business in Fife 163 years ago, and has for many years had operations just around the corner from Bayview and continues to grow and support the Levenmouth area. MGM Timber is one of our businesses deeply connected to this community, in which we want to create a positive future for all." 
MGM Timber is part of the Donaldson Group, which includes businesses such as Donaldson Timber Engineering, Kitchens International, Stone Care, and James Donaldson Timber. With 14 branches across Scotland and an ecommerce website, MGM are experts specialising in not just timber, but bathrooms, doors, fencing, decking and a dedicated kitchen brand, MGM Kitchens. 
East Fife TV sat down with MGM timber, East Fife Chairman Jim Stevenson & Commercial Executive Lee Gillies to find out more: https://eftv.info/mgm-timber-interviews/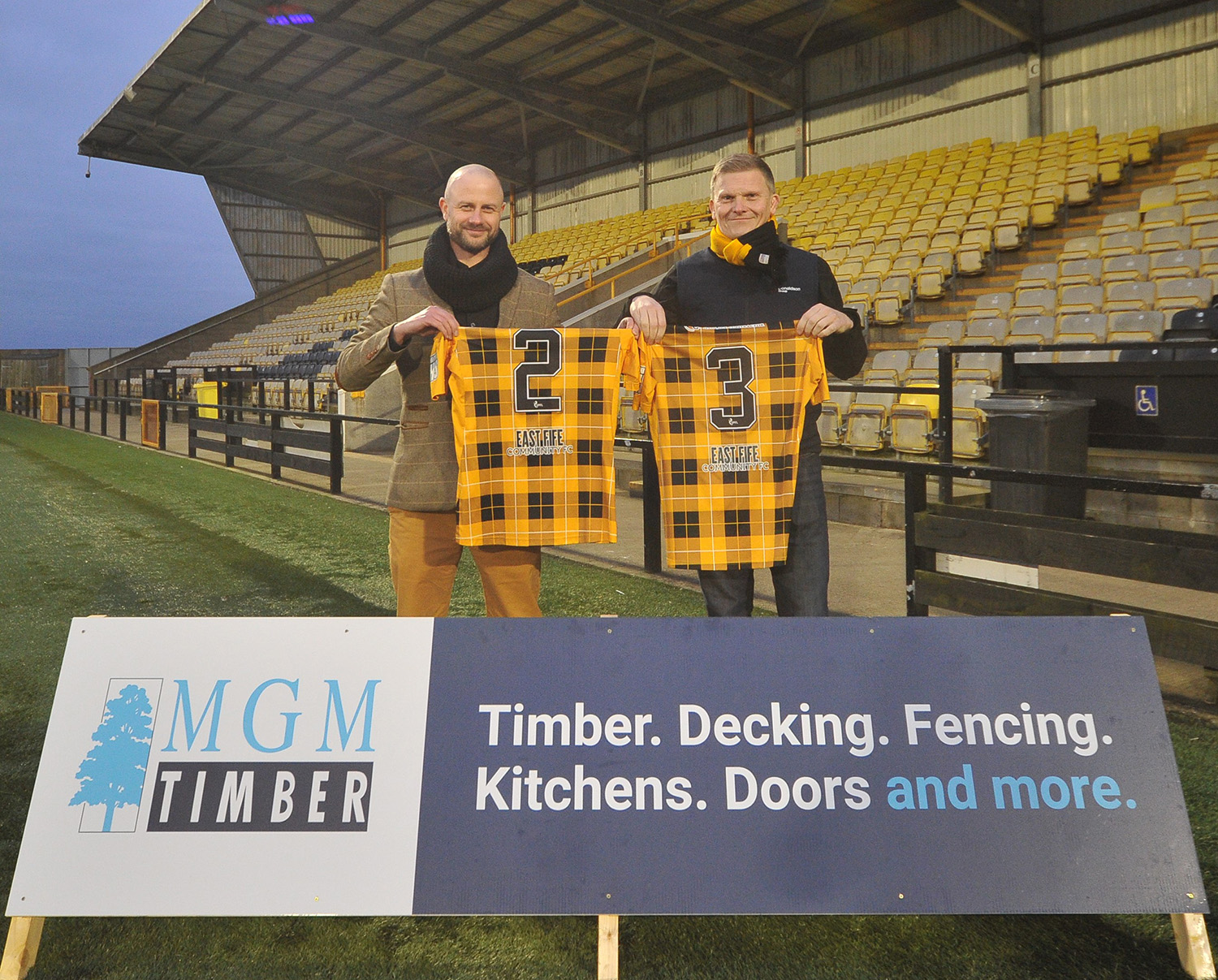 Graham Johnston, Chief Executive Officer Donaldson Group Retail and Distribution, and Steve Galbraith, Managing Director for MGM Timber.