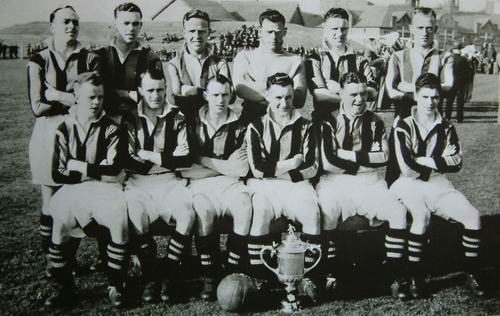 The first Legends we'll be looking at are the members of the Scottish Cup Winning Team of 1938. This has been prepared by our Club Historian, Jim Stewart. The story  of that  game is well documented in the History section of the site but this is about the individuals who made up the team for the successful Cup run.
Goalkeeper was Jimmy Milton who was born in Crieff in 1910. He made his debut for The Fife at Bayview Park against Alloa Athletic who were in Division 2 on14th August 1937 - East Fife won 3-1. Milton's last appearance for the Club was away against Cowdenbeath, again in Division 2, which finished in a draw, 2-2 on the 8th April 1939. His previous clubs were Vale of Earn, King's Park (Stirling Albion nowadays), Falkirk and Dundee United.Jimmy's appearances were limited to 64 league and 12 Scottish Cup, totalling 74.
Right Back came in the form of Willie Laird who originated from Carronshore, born 1918. His debut for the Club was in the league away at Airdrieonians on 20th November 1937. The score was 1-1. East Fife ,of course , were in the League Division 2. Willie's previous clubs were Gairdoch Juveniles, East Stirlingshire and he guested for King's Park and Elgin City during the WW2 years. He made 156 league appearances and scored 1 goal. He also made 35 League Cup appearances, with 28 Scottish Cup games. He also played 9 times in the Supplementary Cup. His other honours were League Cup winners teams of 1947-48, 1949-50 (Captain) and in the runners up team of the Scottish Cup of 1949-50. Willie was to play his last game for The Fife against Third Lanark at Bayview Park in the Scottish League Cup on 19th August 1950 when we lost 5-2. He subsequently transferred to Dunfermline Athletic. Willie died on 7th September 1999.
Left Back was filled by Bobby Tait who came from Glasgow. Bobby first played for the Club on 29th August 1936. He previously played for Dumbarton and Ards(Irish League). His debut was against King's Park at home and The Fife won 3-0. Bobby's appearances were again limited to 57 league and 11 Scottish Cup. Bobby's last game was against Alloa Athletic in the league on 15th April 1939 when we won 4-1.
Right Half position was filled by Davie Russell who hailed from Dundee. His date of birth was 7th April 1914. He came from the North of the Tay clubs of Dundee Violet, Forthill 'A' and Dundee FC.He first played against Brechin City at home on 24th August 1935 when the Club won 4-3 in Division 2. His last game was against Forfar Athletic 28th April 1938 running out winners by 3 goals to nil. Davie played 92 league matches scoring 5 goals and 15 in the Scottish Cup. Davie went on to play for Sheffield Wednesday, Odense (Coach) Bury (Manager) and Tranmere Rovers lastly as manager. Davie died in Birkenhead on 12th June 2000.
Centre Half - John Sneddon was the occupant of this position as well as the Captain of the team. He was born in Bo'ness in 1914 and previously played for Bo'ness Cadora before coming to the club. He first played for East Fife on 18th August 1934 in a Division 2 game at home against Greenock Morton, the club winning 1-0. He had 148 league appearances, scoring 10 goals in his 14 years at the Club. He also appeared in 17 Scottish Cup games and in 1 Supplementary Cup game. His final game was at Bayview Park on 12th April 1948 at the age of 34, against Dumbarton with a winning finish of 2-0. John died in Bo'ness in September 1986.
Left Half was filled for one game only by John Harvey who was signed on loan from Heart of Midlothian to replace Andy Herd who had been injured in the first game. He obviously made his sole appearance against Kilmarnock at Hampden Park, Glasgow in the Scottish Cup Final replay on that wonderful 27th day of April 1938. We all know that it was a winning debut with the score 4-2 in favour of East Fife after extra time. John came from Wallyford and had played for the wonderfully named clubs of Musselburgh Imperial, Ormiston Primrose, Heart of Midlothian and Bo'ness (loan). After the loan period of 1 game was finished, he later played for Kilmarnock and went to Heart of Midlothian as an assistant trainer, then trainer and finally manager. John Harvey died in 1980.
Outside Right - who else could fill this role but the famous Tommy Adams, the darling of the Bayview Faithful.Tommy was born in Glasgow in 1916. He played for Hamiltonhill Social, Neilston Victoria before coming to the Fifers on 16th August 1935 to make his debut against St Mirren at Bayview Park where we lost 6-1 in a league division 2 match. Tommy went on to make 190 appearances in the league, scoring 62 goals. He also scored 8 goals in 24 League Cup games and in 25 Scottish Cup games, he grabbed 5 goals.Not satisfied with those goals, he scored 3 in 9 Supplementary Cup games. Tommy then, during World War 2, played for Hibs, hearts, Dunfermline Athletic Hamilton Accies and Greenock Morton before returning to the club afterwards.His last game after a long and popular career was against Falkirk at home on 22nd January, 1949 in the Scottish Cup. He ended in a winning side, the score being 2-1 in favour of the Fifers. Tommy went to Forfar Athletic after this. Tommy's other honours were that he was the Captain of the East Fife League Cup winning team of 1947-48 and he was also the first player to score a hat trick in a League Cup Final (Replay versus Falkirk 1947-48) Tommy died at the age of 68 on 19th October 1984 - very much remembered yet for his heroics and trickiness on the right wing by many fans , some who to this day are proud that they were his apprentices in his trade.
Inside Right - this important role was filled by Eddie McLeod who was born in Glasgow in 1914. Eddie played for Shawfield Juniors and Portsmouth before joining The Fife. He first played against a now defunct Edinburgh City FC in a Division 2 game in Edinburgh in November 1935 which resulted in a draw, 2-2. Eddie did not play for the Club for very long after winning the Cup - he last played for East Fife on 12th November 1938 at Bayview against Alloa Athletic when the home side won 3-1. Eddie made only 87 league and 15 Cup appearances. However he did score 69 league goals with 7 Cup goals. That is a very good scoring record in any time. Eddie then went to Manchester City and then to Shrewsbury Town and during WW2, he played for the Hibs. Eddie died in 1988 aged 74.
Centre Forward - Bobby McCartney was the spearhead of the attack - he first played for East Fife away at Gayfield Park, Arbroath in March 1932 where we lost 2-0. He had come from Newtongrange Star and Heart of Midlothian and remained with the club till April 1939. He made 195 outings, scoring 87 league goals , with 5 goals in 19 Scottish Cup games, again a tremendous scoring record. Bobby's final game was against Alloa Athletic.
Inside Left - David (Larry ) Millar was inside left and he came fromPaisley. Before coming to East Fife, Larry was at various clubs including Paisley YMCA, Yoker Athletic, Falkirk, Albion Rovers, St Mirren and King's Park. Larry played for only one and a half years for the Fifers, with his first game at home against Dumbarton in October 1037, The Fife winning 4-1. His last appearance was away against Cowdenbeath on 8th April 1938 when it was a draw, 2-2.He played only 41 league games, scoring 10 goals and 11 Scottish Cup games witn 5 goals. Larry then after World War 2 became a Grade One Referee. He died in Paisley  in September 1992.
Outside Left - Danny McKerrell from Blantyre was the left winger.He came on loan to East Fife. He first played against St Bernards FC (Edinburgh) in the Scottish Cup Semi Final 2nd Replay when the Fife won 2-1 on 13th April 1938.Danny's previous clubs were Bedlay Juniors, Shawfield Juniors, Hamilton Accies and Falkirk.His last appearance was on 15th April 1939 against Alloa Athletic. He made 17 league appearances, scoring 10 goals 4 Cup games scoring 3. Not a bad record for a winger. Danny went on to play for Hamilton Accies , Newcastle United and Middlesbrough during WW2.
There were other players who played for the Club in that wonderful cup run who were unfortunate enough not to play in the final - here are some of them who are obviously not as well known as the Cup winning team.
Andy Herd was the usual left half for the club but he missed the Cup Final replay through injury. Andy was born in  Cardenden in 1902. He previously played for Bowhill Star, Hearts of Beath, Dundee, Dunfermline Athletic and Heart of Midlothian.He first played for the club on21st August 1937 against Kings Park at Stirling where we won 2-0.His final game was against Alloa Athleticon 15th April 1939. Andy appeared 44 times in the League with 3 goals and 11 Cup games with 4 goals. His other honours were 1 Scottish Cap and a league cap when with Hearts.Andy emigrated to Australia where he died in 1084.
Joe Cowan was another player unlucky not to be in the final. He was a centre forward who joined the club on 11th August 1934 playing against Third Lanark away where we lost 3-0.He scored a remarkable 82 goals in 99 league appearances with 3 in 7 Cup games. He had played for Markinch Rangers, Wellesley Juniors, Celtic and Raith Rovers. His other honour was that he held the scoring record for most goals for the Club in one month with 7 against Dumbarton at Bayview in September 1934 - the score was 9-1 for The Fife. He last played against East Stirlingshire in April 1938. Joe died in Windygates in 1991.
John Young was a left back who joined East Fife in August 1935. He made his debut against St Mirren at Bayview, losing 6-1. His former clubs were Partick Thistle, Alloa Athletic and Kings Park. He scored 2 goals in 89 league appearances, with 5 Cup games , eventually bowing out against Forfar Athletic in September 1938.
Andrew Duncan was an outside left who had a very short career with the club. He appeared against Raith Rovers in the Cup replay of 23rd march 1938 when we won 3-2.  His final game was against Dundee United on 29th April 1938 when we demolished them 7-0. He had only 3 league appearances with 1 goal and 2 Cup games. His previous clubs were Rutherglen Glencairn and St Johnstone
Finally, James Henderson was another outside left who joined the club in October 1937, playing against Dumbarton at Bayview, winning 4-1. He previously played for Forth Juniors and made his final appearance against Forfar Athletic in January 1939. He scored 10 goals in 27 league matches and 1 goal in 5 Cup appearance
Scottish League Cup Winners 1947 - 48 season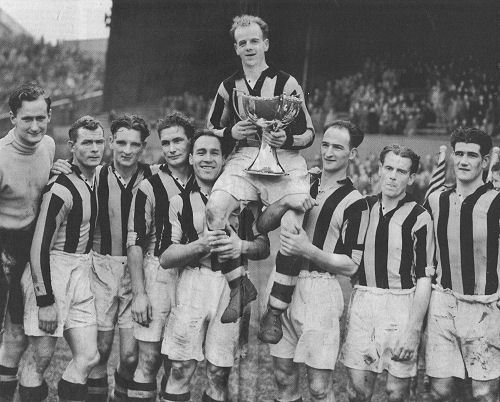 We now look at other legends of East Fife FC and appropriately, in the 60th anniversary of winning the League Cup and winning the Championship of B Division, the Club are SFL Irn Bru Champions of the 3rd Division.
Again we look at the backgrounds of the players who brought the League Cup to Methil for the first time of three. Once more the Club is indebted to Jim Stewart, the Club historian for his research and results.
What was the team ? Many fans can still rattle off the team to this day as follows - Niven, Laird and Stewart; Philp, Finlay and Aitken; Adams, Davidson D., Morris, Davidson J., Duncan.
John Niven - goalkeeper -  was born in Coatbridge in 1921 and signed for The Fife from Renfrew Juniors in 1942. He made his debut against Dundee in 1946 when we lost 6-2. in Division B match.He made well over 100 appearances before going on to Kilmarnock. During the War, Niven played for Hibs, St Mirren, Falkirk and Dundee.
Willie Laird - right back - his details are in the Scottish Cup Winning legends above.
Sammy Stewart - left back - born in Musselburgh 1920 and died in 1995. One of the most loyal players the Club has ever had since he signed fromTranent Juniors and apart from the war years when he played for Hearts and Raith Rovers, he played for no other clubs. When he left East Fife in September 1960, he did not go to another Club. His first game was against East Stirlingshire when the team won 7-5 and he scored a goal! Sammy's last game was a home game against Cowdenbeath when the Club lost 4-1.His honours were League Cup Winner 1947-48; 1949-50; 1953-54 (Captain) B Division Championship Winner and Scottish Cup runner up in 1949-50. Sammy made almost 400 league appearances, 99 League Cup games and 30 Scottish Cup games with a total of 8 goals.
Jimmy Philp - right half - born Lumphinnans in 1914. He signed in 1946 after appearing for Methil Hearts, Denbeath Star,Crossgates Primrose, St Bernards and Selkirk (loan).During the war, he played for Hearts and later joined Brechin City after his time with East Fife. His first game was against Dundee (lost 6-2) and his last was versus Hearts in 1951 (lost 3-1). Among Jimmy's honours was the winning of the Division C Championship when he was Captain of Brechin City in 1953 -54. Jimmy then returned to East Fife in the capacity of Assistant trainer and then trainer. He was associated with the Club for many years thereafter. Jimmy died in Kirkcaldy in Mar 1998
Willie Finlay - centre half - born Auchterderran and was the best uncapped centre half that Scotland had in many fans' opinions. Wullie made his debut in 1946 against Dunfermline Ath. in a Div. B game (won 2-0). His last appearance was against St Mirren in Div A (lost 4-0) in 1956 before he was transferred to Clyde and later to Raith Rovers.Wullie was originally signed from Bowhill Rovers and played almost 400 games for the club. Wullie's honours were the same as Sammy Stewart's with the addition of Division 2 Championships 1956-57, 1961-62 and Scottish Cup Winner 1957-58, all with Clyde. Wullie is still active to this day, playing bowls with Markinch BC.
George Aitken - Left half - born in Lochgelly 1925.Signed for the Club in 1943 after appearing for Lochgelly St Andrews and Wolves. He first played for the Club against Dundee in 1946 (lost 6-2). He made almost 150 appearances and won all the honours till the League Cup win of 1949-50. He also won the prize honour of being capped for Scotland 5 times with East Fife and then 3 times with Sunderland. He last played against Third Lanark for the Club when they lost 4-1. He later played for Third Lanark , Sunderland and finally Gateshead. George died in Sunderland on 22nd january 2003.
Tommy Adams - Outside Right - Tommy's history has already been explained in the Scottish Cup Legends above.
Douglas (Dougie) Davidson - inside right - from Dundee in 1918 and signed in 1946. Made his debut against Dundee in 1946 when we lost 6-2. He made 85 appearances and scored 29 goals before he went on to Blackpool and Reading. He had previously played for Lochee Central and Dundee Violet. He became a coach and was at Birmingham City, Portsmouth and Luton Town before dying in Portsmouth in 1968.
Henry Morris - centre forward - a great legend of the Club. He was born in Dundee in 1919 and signed in 1946. Like many others of this League Cup winning team, made his debut against Dundee, losing 6-2.Henry made 188 appearances and scored 171 goals - a phenomenal rate by any standard. He previously played for Lochee Central and Dundee Violet.His honours included all those up to the Scottish Cup Final in 1950. He is also the holder of East Fife's goalscoring record for a season with 62 goals in 1947-48.His 41 league goals equalled the record set by Jock Wood in 1926-27. He won one cap for Scotland against Northern Ireland at Windsor Park on 1st October 1949. He scored 3 goals in Scotland's 8-2 win. He is the only player in the 20th Century to score a hat trick and NEVER be capped again.That match is now regarded as Scotland's first World Cup Qualifying match for the 1950 finals. As scorer of the first goal, Henry Morris therefore holds the record of scoring Scotland's first ever goal in the World Cup competition. One wonders what would have happened if Henry Morris played for a more fashionable club than East Fife with regards to International appearances.Henry then went on to Dundee United and Portadown. He died in 1993 in Kirkcaldy.
John (Jake) Davidson - inside left - was born in Leslie in 1925 and was signed in 1947 after appearing for Lochee Central, Dundee Violet and Dundee Utd.His first appearance was against Ayr Utd in the League Cup when The Fife won 5-0.He played over 70 games, scoring almost 30 goals before his final game in 1950 against Falkirk. He later went on to Kilmarnock, Rhyl Athletic and Alloa Athletic.
Davie Duncan - outside left - born Milton of Balgonie in 1921.Davie signed in 1944 and made his debut against Dundee. His last game was against Clyde in 1953 after nearly 260 appearances, scoring 107 goals. Davie's previous clubs were Woodside Amateurs, Milton of Balgonie, Lochgelly Albert, Wolves and Raith Rovers. He also played during WW2 for Raith Rovers, Hearts,  Celtic and East Fife. He then went on to play for Raith Rovers, Crewe Alexandra and Brechin City. Davie Duncan became only the second East Fife player to play for Scotland when he made a scoring debut against Belgium at Hampden on 28th April 1948. He was also the first Division B player to be selected. His other 2 appearances were against Switzerland and France in May 1948. Caps were then only awarded for appearances in the Home International Championship matches.That policy was not changed until 2007 when the Duncan family received a cap posthumously.He also became the first East Fife player to play for the Scottish League when he appeared against the English League at Newcastle on 17th March 1948. Davie Duncan's Scottish International Jersey is on display at the Club.
LEAGUE CUP WINNERS 1949-50
Jock McGarrity was in goals for The Fife,born in 1925 and died in March 2006 in Dundee.His previous club was Blairhall Colliery and later played for Arbroath and Cowdenbeath.
He made his debut against Clyde on 2nd April 1949 when the Club won 4-2 in Division A.His last appearance was against Falkirk on 1st May 1950 in Division A, winning 2-0 He had 8 league appearances with 2 League Cup games. In all he had only 10 appearances that season. His only honour was winning the League Cup in 1949-59 against Dunfermline Athletic.
Playing at right back was Willie Laird (Captain) - see his profile in the Scottish Cup Winners 1938.
Playing at left back  was again Sammy Stewart. - See his profile in League Cup Winners 1947.
At right half was Jimmy Philp - see his profile in League Cup Winners 1947.
The centre half was Willie Finlay - see his profile in League Cup Winners 1947.
Alongside him at left half was George Aitken - see his profile in League Cup winners 1947.
On the right wing was Robert (Bobby) Black who was signed in 1945 from Connell Park Rangers.He made his debut against Dundee at home in Division B on 10th August 1846 when East Fife lost 6-2. His last appearance was against Motherwell in Division A away on 26th April 1952 when East Fife won 6-1. He played 78 league games , with 17 appearances in the League Cup and 10 in the Scottish and also in the Supplementary Cup scoring 28 goals in his East Fife career.He then went to Queen of the South. His achievements were League Cup winner 1949 and Scottish Cup runner up in same season.
At inside right was one of the Club's best loved characters, Charlie (Legs or Cannonball) Fleming. He was born in Blairhall on 12th July 1927 ans was signed in June 1947. He made his debut in the Supplementary Cup against Arbroath at Bayview on 31st March 1948, scoring 2 goals in the 6-1 victory. His first League appearance (Division B) was again at home, on 7th April 1948,  versus Stenhousemuir when he again scored 2 goals in the 4-0 victory. Charlie's last game for The Fife was against QOS on 3rd January 1955 when a loss of 1-0 was recorded. Charlie made 173 league appearances, scoring 117 goals - in his 50 League Cup showings, he scored 42 goals and in the Scottish Cup, he scored 8 goals from 16 appearances. His total appearances amounted to 242 with 3 in the Supplementary Cup. His goals total was 167 and, phenominally 7 goals in the Supp.Cup.Charlie was signed from Blairhall Colliery and after his long spell at the Club, went on to Sunderland, Bath City and Trowbridge Town. His honours were - League Cup winner 149-50 and 1953-54 - Scottish Cup runner up 1949-50 (all with East Fife)
Caps - Played for the Rest of Britain against Wales at Ninian Park on 5th December (Welsh FA 75th Anniversary match) - was the only uncapped player in the Rest Team- scored once in the 3-2 defeat. He then played for Scotland against Northern Ireland on 3rd October 1953 when Scotland won 3-1 with Charlie scoring 2 goals. Amazingly, these caps were all this free scoring forward with the cannonball shot ever achieved. Again one must wonder how many caps Charlie could have attained had he played for a "more fashionable" Club. Charlie went on to coach/manage Trowbridge Town, Toronto City (Canada), Washington Darts (USA) and Sydney Hakoah (Australia). The older supporters speak of this player very fondly and with the highest regard. 
Henry Morris was centre forward and his profile has already been illustrated in the League Cup Winners of 1947.
One of our most famous players was Allan Duncan Brown who occupied the inside left position. He was born in Kennoway, on 12th October 1926 and signed from Kennoway Hearts in January 1944. He first appeared (apart from the WW2 years) on 2nd January 1947 at Bayview Park against Dunfermline Athletic in Div B when it was a 1-1 draw. His last game for the Club was against Falkirk in Division A at Brockville on 1st May 1950 when The Fife won 2-0.He had 62 league appearances, with 15 League Cup and 7 Scottish Cup, totalling 84  with 26 goals. Allan was then transferred to Blackpool and went on to play for Luton Town, Portsmouth and Wigan Athletic. His honours were League Cup winner 1949-50, Scottish Cup runner up 1949-50 (East Fife) FA Cup runner up 1958-59 (Luton Town.
Caps - He played for Scotland 14 times (East Fife 3 and Blackpool 11)In his 3 appearances in the dark blue of Scotland while with East Fife in 1950, he played against Switzerland (H), Portugal (A) and France (A). He scored in all 3 games. His last caps were against Austria and Uruguay in the 1954 World Cup in Switzerland which was also Scotland's first appearance in that competition. He was also capped by the Scottish League against the English League at Middlesbrough on 23rd March 1950
(2nd player to be capped by Scottish League while with East Fife). He then began his coaching/managerial career with Wigan, Luton Town, Torquay United, Bury, Nottingham Forest, Southport, Blackpool and Quadsia (Kuwait). 
At outside left was Davie Duncan whose profile can be seen in the League Cup Winners of 1947.